Med hjälp av röntgen- och neutronspridning har ett forskarlag i Lund lyckats kartlägga fibrillstrukturen hos proteinet beta-amyloid 42 som bidrar till Alzheimers sjukdom.
Den nya kunskapen kan bli en viktig pusselbit i den framtida jakten på effektiva läkemedel.
Vid Alzheimers sjukdom förtvinar nervcellerna i hjärnan vilket leder till minnesproblem och svårigheter att tolka intryck. Till en början förstörs cellernas utskott och kontaktpunkter, men med tiden dör hela nervcellen. I hjärnan hos en person med svår Alzheimers finns plack av de skadliga proteinerna beta-amyloid och tau samt små klumpar, så kallade oligomerer. Exakt hur plack av beta-amyloid, som finns i flera olika varianter, är uppbyggt har forskarvärlden hittills inte kunnat slå fast. Det har varit känt att proteinets trådliknande strukturer, de så kallade fibrillerna, består av tvinnade trådar med två peptidkopior per plan. Men i en ny studie som publiceras i Proceedings of the National Academy of Sciences, PNAS, kan ett forskarlag från Lunds universitet avslöja att varje fibrill består av två stycken trådar, så kallade filament.
– En djupare förståelse för hur fibrillerna är uppbyggda och skapas kan hjälpa oss att ta fram läkemedel som hämmar bildandet och spridningen av skadliga oligomerer, säger Veronica Lattanzi, kemidoktorand vid Lunds universitet.
För att detaljstudera beta-amyloid 42 genomförde forskarlaget avancerade röntgen- och neutronspridningsexperiment på Kemicentrum i Lund samt vid Paul Scherrer-institutet i Schweiz. Tack vare spridningsmönstret som skapades i labbet kunde forskarna identifiera en rad hittills okända särdrag hos proteinet.
– Förutom att slå fast att fibrillerna som bildats under rena förhållanden är uppbyggda av två trådar med fyra peptidmolekyler per plan kunde vi identifiera rester av aminosyror på själva fibrillytan, säger Veronica Lattanzi.
Alzheimers är en snabbt växande sjukdom som skapar stort lidande både för de drabbade individerna och deras anhöriga. I somras godkände det amerikanska läkemedelsverket den första symtomlindrande medicinen.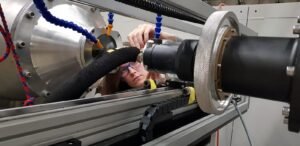 Aducanumab är en antikropp som dirigerar om beta-amyloiden vilket begränsar bildandet av giftiga oligomerer.
– Men de cirka 50 miljoner människor som idag lider av den här obotliga demenssjukdomen är i behov av fler effektiva läkemedel. Jag hoppas att vår studie kan bli en liten pusselbit i detta arbete, säger Veronica Lattanzi.