Trots att multipelt myelom är den näst vanligaste blodcancerformen är det många som aldrig har hört talas om sjukdomen.
I ett nytt projekt initierat av Sanofi, delar fyra familjer som drabbats av multipelt myelom med sig av sina personliga familjefotografier för att skildra en privat och ärlig bild av hur det är att leva med cancer.
I konstutställningen «Multiple Moments To Live For», står fyra personer med diagnosen multipelt myelom (MM) och deras familjer i berättelsens fokus. Via fotografier från äldre familjealbum, mobilbilder, digitala och analoga bilder, förmedlar utställningen berättelser från det verkliga livet före och efter att man fått diagnosen.
Sanofi, som arbetar med att forska fram läkemedel för att behandla multipelt myelom, vill sprida medvetenhet om cancersjukdomen genom att visa bilder från det verkliga livet av människor som lever med sjukdomen.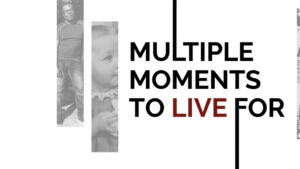 – Vår målsättning är att skapa känslomässig kontakt med människor för att öka medvetenheten. Sanofi arbetar engagerat för att stödja människor som diagnostiserats med multipelt myelom och för att kunna göra det behöver vi förstå dessa människors verklighet – och även hjälpa andra att förstå och få ökad insikt. En påhittad berättelse skulle inte kunna tävla med verkligheten. Så vi ville förmedla berättelser från det verkliga livet, om hur det är att leva med multipelt myelom. Vi tackar alla som har bidragit till att förverkliga denna utställning, säger Jon Tsai, medicinskchef på Sanofi.
Den digitala konstutställningen har gjorts i samarbete med den kände norske fotografen, Marcel Leliënhof. Marcel har även en mycket personlig erfarenhet av sjukdomen, eftersom hans far gick bort i sjukdomen förra året.
– I december 2020 fick jag förfrågan om att kuratera utställningen «Multiple Moments To Live For». Då visste jag inte att jag senare samma månad skulle förlora min far i sjukdomen. Det var en fruktansvärt tragisk och tuff tid både för mig och min familj. Jag hade absolut ingen kunskap om benmärgscancer och jag hade ingen aning om att det var just denna specifika sjukdom som min far led av, säger Marcel Leliënhof.
Även om Marcel har arbetat som fotograf under 35 år, så liknar detta projekt inte något han gjort tidigare.
– Det har varit oerhört spännande, men samtidigt ganska utmanande att axla ansvaret för att sammanställa en kombination av fotografier och texter som på sätt och vis skall skildra en persons livsberättelse. Jag har tillsammans med olika personer som lever med multipelt myelom försökt välja fotografier som på bästa möjliga sätt återger viktiga stunder i deras liv – i både medgång och motgång, säger han.
Utställningen «Multiple Moments To Live For», kommer att lanseras den 1 december på multiplemoment-sanofi.com/se. Sanofi är mycket förväntansfulla inför att dela projektet med allmänheten och hoppas att det kommer att främja ökad medvetenhet kring cancersjukdomen.
– Varje år insjuknar omkring 660 personer i multipelt myelom i Sverige1. Inom Sanofi arbetar vi målinriktat mot att säkerställa att nya effektiva behandlingar når ut till patienter med multipelt myelom, säger Jon Tsai, medicinskt ansvarig på Sanofi.