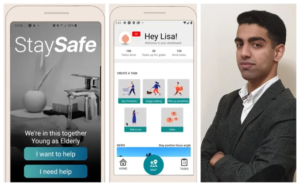 Den vann nyligen andrapris i den världsomspännande tävlingen "The Global Hack". Kreatören bakom appen? Den 17-årige Thoren Innovation School-eleven Shariq Musharaf.
– Vi har redan fått kontakt med många kommuner i Sverige men vi tror att appen kan användas i hela världen, säger Shariq.
Nya kriser kräver nya lösningar. Den 3-6 april arrangerade den svenska regeringen "Hack the Crisis", ett covid-19-hackaton för att få fram nya idéer och lösningar på de utmaningar som coronakrisen medfört. Hack the Crisis blev katalysatorn för Shariq Musharafs vilja att hjälpa till på något sätt i krisen.
Shariq läser andra året på teknikprogrammet på Innovationsgymnasiet (TIS/Thoren Innovation School) i Göteborg och har parallellt med studierna jobbat som utvecklare sedan har var 13. Nu kollade han vilka i hans nätverk som ville vara med honom i detta hackaton. Tillsammans med designers och utvecklare boende i fem olika tidszoner utvecklade de en plattform för att hjälpa människor i riskgrupper att utföra nödvändiga ärenden i coronakrisen.
Appen StaySafe kom på sjätte plats i Hack the Crisis – men Shariq ville mer och teamet ställde upp i de globala tävlingen, The Global Hack.
– Vi trodde så mycket på vår produkt och visste vad vi kunde göra bättre så vi ställde upp i det globala hackeventet och där slutade vi tvåa i vår kategori, säger TIS-eleven Shariq.
Nu jobbar han och hans kollegor för högtryck för att utveckla appen och kunna lansera den på marknaden.
– Det här är någonting som kan förändra världen, speciellt för de som behöver det mest. Vi håller just nu på att registrera ett företag och bestämmer vilka olika roller och affärsmodeller vi ska ha i företaget. Vi har redan fått kontakt med många kommuner i Sverige men jag tror att den kan användas av alla regeringar i världen, säger han och fortsätter:
– Grundtanken med appen är att vi vill föra samman människor som behöver hjälp – med exempelvis att handla, köpa mat, gå ut med hunden – med de som vill hjälpa. Man kan till och med anställa folk för att hjälpa människor och använda sig av vår app i jobbet. Vi erbjuder en interaktiv app där du får en valuta, heropoints, som du kan använda för att köpa saker på lokala restauranger och butiker. På så sätt skapar vi en möjlighet för folk som inte har så mycket pengar att tjäna på att hjälpa till.
Tanken är också att appen ska kunna bli applicerbar i flera olika situationer.
– I framtiden ska man kunna byta mellan olika sjukdomar och appen ska anpassa sig. Sedan ska appen kunna hjälpa väldigt gamla människor som har svårt att ta sig ut, även om vi inte har en pandemi i samhället. Vi kan skala upp den här appen väldigt mycket, säger den unge entreprenören och innovatören, Shariq Musharaf.