Under pandemin har vi lärt oss att hålla ett säkerhetsavstånd på två meter för att undvika att bli smittade av covid-19.
Det är en falsk trygghet, visar ett internationellt forskarlag, där Chalmers ingår.
Forskarna har utvecklat en ny beräkningsmodell för att bättre kunna bedöma smittrisken – både med och utan munskydd. Den visar att det etablerade säkerhetsavståndet inte gäller generellt, utan påverkas av ett flertal faktorer. Den nypublicerade studien slår också fast att munskydd minskar risken för smittspridning avsevärt.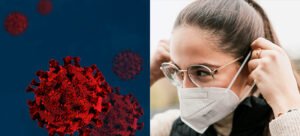 – I stället för att hänvisa till ett generellt avstånd som skulle vara säkert i alla lägen så har vi använt en beräkningsmodell som förutom avstånd också tar hänsyn till hur varmt eller kallt det är i luften, hur hög luftfuktigheten är, vilken virusmängd det är tal om och om personen pratar, hostar eller nyser, förklarar Gaetano Sardina, docent i strömningslära på institutionen för mekanik och maritima vetenskaper på Chalmers.
En nysning kan sprida virus sju meter bort
​​​​​​Den nya studien visar att en person som pratar utan att bära munskydd kan sprida infekterade droppar på över en meters avstånd. Skulle samma person hosta kan dropparna spridas upp till tre meter och skulle personen i stället nysa kan spridningsavståndet uppgå till sju meter. Men genom att använda ett munskydd eller ett andningsskydd med filter avtar risken för smittspridning avsevärt.
​​​– Bär man ett kirurgiskt munskydd, eller ännu bättre ett FFP2-klassat andningsskydd, minskar risken för smitta så till den grad att risken är att betraktas som praktiskt taget försumbar. Också på så kort avstånd som en meter från en person som bär på viruset, säger Gaetano Sardina.
Nuvarande rekommendationer och förståelse för hur luftvägsinfektioner överförs är baserade på ett diagram som utvecklades av den amerikanska forskaren William Firth Wells år 1934. Då var det spridningen av tuberkulos som stod i centrum, men diagrammet används fortfarande och ligger till grund för dagens rekommendationer om säkra avstånd för att undvika covidsmitta. Med sin nya studie utmanar Gaetano Sardina och hans forskarkollegor därför kunskap som vi lutat oss mot under hela pandemin.
Deras nya teoretiska modell har testats med hjälp av data från färska numeriska experiment som har undersökt i vilken utsträckning munskydd minskar spridningen av droppsmitta. På så vis har man lyckats få modellen att kunna ta flera faktorer i beaktande och kvantifiera risken för smitta, med och utan munskydd.
Munskydd ger utmärkt skydd oavsett miljöförhållanden
Resultaten visar att ett kirurgiskt munskydd, och i ännu större utsträckning ett filtrerande FFP2-klassat munskydd, utgör ett utmärkt skydd som minskar risken för infektion betydligt. Förutsatt att munskyddet bärs på rätt sätt blir risken för smitta också på korta avstånd, det vill säga en meter, försumbar oavsett miljöförhållanden och om personen i fråga pratar, sjunger, hostar eller nyser.
Virus, som SARS-COV-2, sprids från en infekterad individ till andra mottagliga individer när virusfyllda droppar avges från spottkörtlarna och sprejas i väg genom utandningsluften. Väl ute ur munnen kan dessa droppar antingen avdunsta, sätta sig eller förbli svävande. Större och tyngre droppar tenderar att falla ner innan de avdunstar, medan mindre droppar beter sig som partiklar som förblir luftburna.
Vidare forskning om luftburen smittspridning
Forskarlaget bakom studien har redan inlett nästa forskningsprojekt, där de studerar den luftburna spridningen av virussjukdomen.
– Den första studien kretsade kring den direkta droppöverföringen av covid-19, men en annan viktig överföringsväg är den indirekta och luftburna vägen i dåligt ventilerade rum. Vi arbetar för närvarande med att utforska denna aspekt och våra preliminära resultat bekräftar munskyddens effektivitet också när det handlar om luftburen spridning av sjukdomen", säger Gaetano Sardina.
Den vetenskapliga studien "Modelling the direct virus exposure risk associated with respiratory events" har publicerats i Journal of the Royal Society Interface. Forskningen har letts av Universitetet i Padua, Italien, i samarbete med Chalmers tekniska högskola, Universitetet i Udine, Italien och Universitet i Wien, Österrike.