Vägleder avhandlingar/forskning utvecklingen?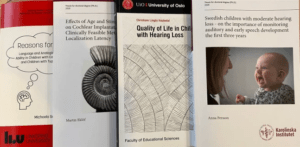 Den 18 december disputerade specialpedagog Anna Persson vid Karolinska Institutet i Stockholm. Avhandlingen "Swedish Children with Moderate Hearing Loss – on Importance of Monitoring Auditory and Early Speech Development the First Three Years". Tidigare under hösten har tre andra avhandlingar rönt stort intresse. Det handlar om
Quality of Life in Children with Hearing Loss (University of Oslo) av Christiane Lingås Haukedal
Effects of Age and Stimulation Strategies on Cochlear Implantation and Clinically Feasible Method for Sound Localization Latency (Karolinska Institutet) av Martin Eklöf
Reasons for Laguage – Language and Analogical Reasoning Ability in Children with Cochlear Implants and Children with Typical Hearing (Linköping University) av Michaela Socher
Vi i Barnplantorna kommer att rapportera från nämnda avhandlingar under våren 2021.
Från Anna Perssons disputation
Svensk hörselhabilitering har länge befunnit sig i någon sorts ideologisk limbo, oförmögen att ta klivet in i nutid, se in i framtiden och anpassa sig till dagens barn med hörselnedsättning antingen de har sofistikerade hörapparater eller cochleaimplantat.
Anna Perssons disputation den 18 december var intressant. Barnplantorna drar en rad slutsatser utifrån betygskommittéens frågor, nämligen
tidig hörapparatanpassning och tidig påbörjan av intervention räcker inte för hörsel- och talutveckling
det krävs heltidsanvändning av hörapparater även om barnet har en lätt eller måttlig hörselnedsättning
det krävs exponering för hörsel och talspråk i hörsel- och talspråkutvecklande miljöer
många kriterier ska uppfyllas och även multidisciplinära team är viktiga för att följa barn, anpassa intervention och stödja föräldrar
föräldrar måste få regelbunden information om möjligheter och konsekvenser av olika beslut
Efter disputationen konstaterar vi (ånyo) att det fortsatt brister i hörselhabilitering (intervention) i Sverige då flera mätmetoder i Anna Perssons studier ännu inte finns i interventions-verksamheterna utan har bara använts i Perssons studie!
Hörselbarnregistret under utveckling
Barnplantorna har tidigare rapporterat om Hörselbarnregistret och att registret är under utveckling. Initiativtagare till Hörselbarnregistret anger att, en av målsättningarna med hörselhabiliteringen är att barn med hörapparat eller CI ska få ett talat språk, så att de kan utvecklas i sin fulla potential. För barn utan andra funktionsnedsättningar är målet att de ska få samma talspråksutveckling som hörande barn. Idag är det möjligt.
Barnplantorna om Hörselbarnregistret
Flera av avhandlingarna från denna höst bör tillsammans med data från Hörselbarnregistret bana väg för ett nödvändigt förändringsarbete inom hörselhabiliteringen. Det är hög tid. Så länge hörselhabiliteringen på en rad platser i Sverige befinner sig i ett ideologiskt ingemansland envist hävdande teckenspråkets suveränitet kommer barn med hörselnedsättning inte att erbjudas möjligheter att utvecklas till sin fulla potential för att bli samhällsbärare istället för kulturbärare. Vilken svek mot barnen!
BARNPLANTORNA