Coronaviruset skapar stress överallt i världen.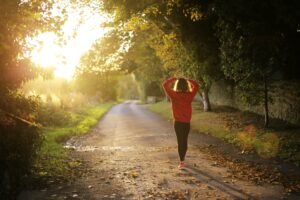 Tomma butikshyllor, rädsla för sjukdomen och karantän eller frivillig isolering kan ha en negativ påverkan på depression och ångest.
Pandemins följder kommer att drabba alla på olika sätt, och kliniska psykologer på Flow Neuroscience erbjuder en guide för hur man kan hantera sin egen och andras mentala hälsa under den här perioden.
"En global oro över coronaviruset innebär att det är mycket viktigt att upprätthålla vanliga rutiner så gott det går när det gäller sömn, kost och träning, särskilt för personer med pågående psykisk ohälsa," säger Daniel Månsson, klinisk psykolog och medgrundare av Flow Neuroscience. "I det nuvarande läget är det absolut nödvändigt att hitta sätt att upprätthålla din vardagliga rutin för att minska stress och eventuella depressiva tankar som kan uppkomma."
Först och främst – filtrera nyheter och sociala medier
De ständigt pågående nyheterna om pandemin kan kännas obevekliga och kan förvärra mental ohälsa. Försök att finna en balans mellan att se viktiga nyheter och de nyheter som kan förvärra dina depressiva symptom. Använd pålitliga källor, exempelvis NHS website, vid specifika tillfällen för att ta praktiska steg mot att skydda dig själv och dina nära. Ta pauser från sociala medier och stäng av notiser och konton som kan trigga obehag.
Prata öppet
Vissa personer kan uppleva att deras depression och ångest inte behöver den särskilda uppmärksamhet som det innebär att tala om problemen under den här ovanliga perioden. Människor bör uppmuntras att tala om sina känslor. Flera hjälplinjer finns tillgängliga, inklusive Samaritans, samt krismottagningar för psykisk ohälsa. Du finner mer information om dessa via välgörenhetsorganisationen för mental ohälsa, Mind.
Ät en antidepressiv kost
Ångest kommer troligen att öka under den pågående krisen, men en välnärd kropp är bättre på att hantera stress. Traditionell medelhavskost, vilken ibland kallas för 'den antidepressiva dieten' på grund av sina antiinflammatoriska egenskaper, innehåller fullkorn, grönsaker (särskild gröna blad), frukt, bär, nötter (inklusive mandlar), frön och kallpressad olivolja. Flows app som laddas ned gratis till iOS och Android kan hjälpa folk att förbättra kostvanor hemma och minska risken för depression.
Få den terapeutiska sömnen
90% av deprimerade personer upplever sömnproblem, som kan tänkas förvärras på grund av rädslan för coronaviruset. Sömn med god kvalitet är en sorts nattlig terapi och ökar förmågan att hantera starka känslor. Försök att vakna och gå och lägga dig vid samma tid varje dag. Att få 8 timmars sömn, ta ett varmt bad, se till att temperaturen i sovrummet är 18 grader samt ingen skärmtid två timmar före läggdags kommer också att hjälpa.
Träning som depressionsbehandling
Eftersom vi har månader av coronaepidemin framför oss, är det viktigt att fortsätta träna. Kliniska forskningsstudier visar att regelbunden träning producerar dopamin och serotonin; kemikalier som omedelbart påverkar din sinnesstämning. De flesta har inte tillgång till gym under den pågående krisen, så det är viktigt att skapa en daglig träningsrutin hemma. Experter rekommenderar 30-40 minuter träning, 3-4 gånger i veckan för att minska depressiva symptom. Personer med depression kämpar ofta med att få till träningen, så börja smått med en 10 minuters promenad och öka med några minuter varje dag.
Hjärnstimulering – Hemmabehandling för depression
Om du lider av klinisk depression är det viktigt att du kontaktar din doktor eller psykolog om dina symptom förvärras. I takt med att coronaepidemin breder ut sig, kommer sjukvårdsmottagningar dock att behöva kämpa för att klara kravet på att rädda liv. En modern, medicinfri behandling för depression, som inte kräver besök på vårdcentral eller sjukhus, finns tillgänglig i Storbritannien sedan juni 2019.
Hjärnstimulerings-headsetet, som skapats av Flow Neuroscience, är det enda inom EU som är medicinskt godkänt som hemmabehandling för depression. Headsetet använder tDCS, en typ av hjärnstimuleringsteknik som nu finns med på listan över depressionsbehandlingar på NHS hemsida. Kliniska studier som publicerats i New England Journal of Medicine och British Journal of Psychiatry visade att samma typ av hjärnstimulering som används i Flows headset (tDCS)  hade liknande effekt på depression som antidepressiva läkemedel.