Kriser tvingar ofta fram stor innovation och snabba framsteg i utvecklingen.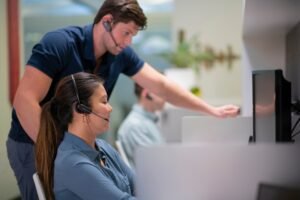 Under Coronapandemin har mycket fokus riktats mot nätläkare och telemedicin i Sverige, eftersom den inte kräver ett fysiskt möte. Men telemedicin, som det också kallas, har faktiskt varit på frammarsch i flera år på olika håll i världen, och bättre tillgång till professionell sjukvårdspersonal var och när som helst kan förbättra utfallet för patienten. Det globala telekommunikationsföretaget Poly tror att coronapandemin kan bli en ögonöppnare för teknikens möjligheter att upprätthålla en jämlik, tillgänglig och hållbar hälso- och sjukvård – även efter pandemin.
Teknikens utveckling har stor potential att förbättra människors livskvalitet och hälsa, och i och med utvecklingen av telemedicin har nya sätt att använda teknik inom hälso- och sjukvård hittats.
I Sverige har allt fler börjat använda sig av nätläkare och trenden växer snabbt i övriga världen, något som har fått allt mer uppmärksamhet i och med den rådande coronapandemin. Men Poly menar att telemedicin kan vara en stor möjlighet för hela världen, även efter corona.
– Vi har sett att våra lösningar använts globalt för telemedicin ganska länge. Vår samarbets- och videokonferensteknik kan underlätta och förbättra hälso- och sjukvård genom att exempelvis nå fler patienter digitalt eller nå landsbygden med medicinsk expertis och på så sätt kunna ge tillgång till medicinsk undersökning trots långa geografiska avstånd och sänka kostnaderna, säger Paul Clark, Nord- och Västeuropachef på Poly.
Telemedicin sänker kostnader och räddar liv världen över
Med hjälp av samarbets- och videokonferenslösningar från Poly har sjukvårdsinrättningar världen över lyckats förbättra sina resultat. Nedan följer några exempel:
USA – Orlando Health & South Carolina Department of Mental Health
På Orlando Health i USA har man ökat tillgängligheten och nått auktoriseringar i realtid för strokepatienter. Samtidigt har restiden för strokepatienter, med risk för hjärnskador, minskat. På South Carolina Departement of Mental Health har man lyckats öka behandlingskapaciteten med 200 procent och genomfört mer än 25 000 konsultationer inom telepsykiatri. Inskrivningstiden är just nu hälften så lång och behandlingskostnaden har sjunkit med nästan 30 000 kronor per diagnos.
Nederländerna – UMC Ultrecht
På UMC Ultrecht i Nederländerna har man ökat sändningarna av stereoskopisk 3D-kirurgi och utvecklat ett världsomfattande höghastighets-, interaktiv-, distansundervisnings-community och därmed har utbildningskostnader för kirurgi minskat. Nätverket finns även representerat i Sverige.
Armenien – Medical Missions for Children
På Medical Missions for Children har man ökat antalet specialistkonsultationer med över 100 konsultationer per år med hjälp av att byta till videoteknik. Man kan även snabbare diagnostisera och medicinera för livräddande behandling. Samtidigt har barnadödligheten hos svårt sjuka barn minskat avsevärt.
Thailand – Royal Thai Ministry of Public Health
På Royal Thai Ministry of Public Health i Thailand har videokonferenser ökat med 75 procent och över 30 000 anställda och 9700 vårdcentraler är nu uppkopplade via video. Därigenom har resekostnaderna till konferenser och möten minskat med 500 000 thailändska baht per läkare.