Användningen av Internet of Things (IoT) fortsätter att öka och med 5G kommer ännu fler saker att kopplas upp.
Det gäller även inom hälso- och sjukvårdssektorn, där datahantering, drift av kritisk utrustning, hembaserade enheter, implantat och fjärrövervakning av patienter kan bli mer effektiv och exakt.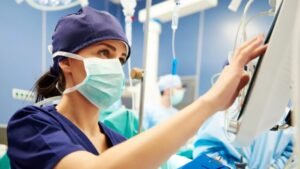 Användningen har fått sitt eget namn – Internet of Medical Things (IoMT).
IoMT:s potential att förbättra och rädda liv kan knappast överskattas och tekniken kommer att fortsätta bidra till en bättre hälso- och sjukvård. Senast har vi också sett hur pandemin bidragit till ett snabbare införande av IoMT, eftersom telemedicin och fjärrövervakning via appar har inneburit säkrare alternativ till fysisk vård av patienter.
Men lika stora som de möjligheter IoMT innebär är också utmaningarna inom IT-säkerheten. Bristande säkerhet kan i värsta fall få ödesdigra konsekvenser för patienterna – och det kan också leda till böter för bristande efterlevnad av datalagar. Här är några utmaningar som sektorn bör tänka på:
• Gamla apparater är ofta utvecklade utan större fokus på IT-säkerhet. I dag används i många fall medicinsk utrustning som designades för långt över ett decennium sedan. Och utrustning som var säker när den först togs i bruk kanske inte kan hantera dagens hot och sårbarheter.
• Stora mängder enheter kan ha identiska inställningar. Medan datorer och andra enheter kan använda en mängd olika inställningar och programvara, kan medicinsk utrustning distribueras i miljontals enheter med identisk konfiguration. Det innebär att en framgångsrik attack mot en enhet enkelt kan upprepas på alla enheter av samma typ.
• Det kan vara svårt att "lappa" och uppdatera. Vissa medicintekniska produkter tillverkas med programvara som aldrig var avsedd att uppdateras eller korrigeras för att åtgärda säkerhetshål. Och även om det är möjligt att göra uppdateringar kan det vara svårt och kräva omfattande tester för att garantera patienternas säkerhet.
• Åtkomstkontrollen kan vara otillräcklig. Medicinsk utrustning är vanligtvis utformad för att vara lättillgänglig för en mängd olika typer av medicinsk och administrativ personal. Var och en av dessa skulle i värsta fall enkelt kunna avslöja skyddad data. En undermålig och osäker åtkomstkontroll kan också innebära att en angripare kan ta kontroll över själva enheten med potentiellt förödande resultat.
• Enheter kan inte skyddas på alla platser. När medicinsk utrustning används utanför sjukhus och andra vårdenheter, kan befintliga brandväggar inte alltid skydda patientdata om utrustningen exempelvis används i patientens hem.
Så vad kan man göra?
Det finns ett antal saker hälso- och sjukvårdssektorn bör fokusera på för att minimera de största säkerhetshoten. Först och främst kan moderna nätverksbrandväggar utöka säkerheten både inom och utanför företagsnätverket, inklusive avancerad skanning av all inkommande och utgående trafik. Dessutom gör de att nätverk kan delas upp så att enheter som till exempel övervakar en patient isoleras från känslig data. Så även om brottslingar får åtkomst till enheten, får de fortfarande inte tillgång till den data de försöker stjäla.
Detta kan med fördel kompletteras med så kallad Zero Trust Network Access (ZTNA). Den förhindrar obehörig åtkomst och har väl avgränsade rollbaserade behörigheter, även när giltiga kontouppgifter har stulits. Dessutom är moderna WAF-lösningar (Web Application Firewall) mer användarvänliga än tidigare.
De verktyg som är utvecklade särskilt för säkerheten i IoT-lösningar är också värda att nämna. De är designade för att distribueras på individuella enheter och ger en mycket hög säkerhet. Samtidigt blir det möjligt med tillfälliga VPN-anslutningar där underhåll och uppdateringar kan skötas av tredje part. Det i sin tur ger en kraftigt förbättrad säkerhet för potentiellt osäkra enheter.
Strategin måste finnas på plats
För att följa med i utvecklingen och samtidigt se till att lagar och regler efterlevs måste IT-avdelningar och sjukvårdspersonal ordentligt granska IoMT-enheter och deras sårbarheter. Det är grunden för en strategi som minskar säkerhetsluckor och gör att man snabbt kan införa nya IT-baserade tjänster.
I takt med att tekniken gör det möjligt att använda nya behandlingsmetoder som gynnar både patienter och medarbetare är det avgörande att vi inte äventyrar vår digitala säkerhet för en bättre fysisk hälsa.