UPS och CVS Health Corporation meddelar att UPS dotterbolag, UPS Flight Forward, kommer använda drönare för att leverera receptbelagda mediciner från ett CVS-apotek till The Villages i Florida, som är USA:s största pensionärs-community, med över 135 000 invånare.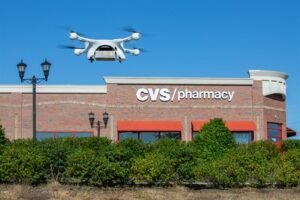 Drönartransporter är ett snabbt alternativ för tidskänsliga mediciner och är också en bra lösning i tider av social distansering. Drönarleveranser är också smidigt för de som inte kan besöka ett fysiskt apotek och hjälper samtidigt till att skydda de som arbetar inom hälso- och sjukvården.
– Vår nya drönarservice hjälper CVS att tillhandahålla säkra och effektiva leveranser av läkemedel till ett stort pensionärs-community. Tjänsten ger de boende tillgång till mediciner utan att lämna sina hem, säger Scott Price, UPS-strategichef. "UPS spelar en viktig roll i kampen mot spridningen av Corona, och det här är ett sätt att stödja våra sjukvårdskunder och privatpersoner med innovativa lösningar.
Förra året presenterade UPS och CVS sina planer på att gemensamt testa användningen av drönarleveranser. Företagen slutförde framgångsrikt sina första leveranser av receptbelagd medicin från ett CVS-apotek i Cary, North Carolina i november 2019.
– Nu är det viktigare än någonsin att våra kunder får tillgång till sina receptbelagda mediciner, säger Jon Roberts, vd och chef för CVS Health. Utöver hämtning i butiken, gratis leverans och drive-in, är drönarbaserade leveranser en värdefull tjänst för en del av våra kunder.
Den nya tjänsten för The Villages i centrala Florida lanserades i början av maj och lyder under Federal Aviation Administrations Part 107-regler, som tillåter tjänsten under pandemin med möjlighet att utvärdera behoven efter perioden. Tjänsten kan också utvidgas till att omfatta leveranser från ytterligare två CVS-apotek i området. De första flygningarna kommer att vara mindre än en kilometer och levereras till en plats i närheten av pensionärs-communityn där ett markbundet fordon möter upp för att slutföra leveransen till den boendes dörr.
Förra året inledde UPS och Matternet en drönarservice på WakeMeds sjukhus och campus i Raleigh, North Carolina och har fram till idag genomfört fler än 3 700 flygningar inom ramen för FAAs Part 107-regler. UPS etablerade UPS Flight Forward i juni 2019, och har sedan dess fått Federal Aviation Administrations Standard Part 135 Air Carrier-certifiering för att driva lufttrafik med drönare. Företagen har sedan expanderat och finns i dag vid University of California, San Diego Health system.
UPS Flight Forward arbetar för att stödja hälso- och sjukvårdens kamp för att stoppa spridningen av Coronavirus. I april genomförde företaget tester i Virginia tillsammans med den amerikanska staten och partners för att ta reda på hur obemannade flygsystem kan hjälpa sjukvården i kampen för att stoppa spridningen av viruset.