En artikel publicerad i Journal of Medical Internet Research visar att Withings ScanWatch kan mäta den perifera syremättnaden i blodet (SpO2) med en noggrannhet motsvarande klinisk kvalitet.
ScanWatch är därmed den enda smartklockan som blivit kliniskt validerad för SpO2-mätning i Europa. SpO2 återspeglar en persons andningsfunktion och är kopplad till sjukdomar som kroniskt obstruktiv lungsjukdom, sömnapnésyndrom och covid-19.
Den perifera syremättnaden i blodet (SpO2) är en procentsats som återspeglar mängden syre i blodet. En minskning av blodets syremättnad är en indikator på hypoxemi som kan uppstå vid olika luftvägssjukdomar, såsom kroniskt obstruktiv lungsjukdom (KOL), sömnapnésyndrom (SAS) och covid-19.
Att upptäcka t.ex. SAS eller KOL hos människor i ett tidigare skede kan bidra till att minska potentiella konsekvenser av dessa sjukdomar, och för att göra det krävs en mer grundlig undersökning av syrenivåerna i blodet. Normala syremättnadsnivåer hos en frisk person är mellan 95% -100%, och en minskning av syremättnaden kan vara ett tecken på en luftvägssjukdom. SpO2-nivåer sjunker till mindre än 90% hos patienter med KOL och covid-19 när de upplever perioder av hypoxemi samt vid SAS när syremättnaden sjunker episodiskt .
ScanWatch: toppmodern medicinsk teknik  
ScanWatch är en smartklocka som kontinuerligt mäter viktiga hälsoparametrar för att upptäcka tecken på hjärtsjukdomar och bidrar till att förbättra den allmänna hälsan. Data från studien som utvärderar klinisk validitet av SpO2-mätning för ScanWatch publicerades i Journal of Medical Internet Research i april 2021. Resultaten visar att ScanWatch är den första och enda smartklockan som blivit kliniskt validerad för SpO2-mätning i Europa.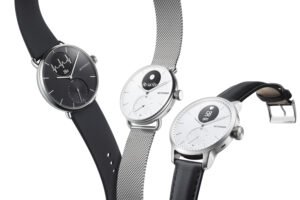 ScanWatch validerades genom en jämförelse med Radiometer Medicals ABL90 hemoximetri, en co-oximeter som används kliniskt för att mäta den arteriella syremättnaden i blodet (SaO2) genom blodprov. ScanWatch använder pulsoximetri, vilket är en indirekt, icke-invasiv metod för att mäta hjärtfrekvens, andningsfrekvens och syremättnad. Pulsoximetri använder sig av fotopletysmografi (PPG); förändringar i blodvolymen i mätområdet kan upptäckas genom optiska metoder. I en PPG-sensor skickas en LED ljusvåg till huden, en del av denna våg kommer att skingras av handledens blodkärl, reflekteras till klockan och registreras av en fotodiod.
-"Vi är glada för dessa kliniska studieresultat och alla möjligheter det innebär för patienter, hälso- och sjukvårdspersonal, forskare och samhället. Smartklockor med SpO2-mätning kan bidra till att förebygga luftvägssjukdomar samt bidra till långsiktig monitorering av dessa i hemmet, utan att regelbundet behöva genomföra en invasiv och dyr undersökning. Vi hoppas att denna validering kan bidra till implementeringen av kroppsnära teknik som ett verktyg för nära vård utanför sjukhus såväl som människors egenvård för fysiskt och psykiskt välbefinnande.", säger Vincent Vercamer, projektledare för Health Innovation på Withings.
Pågående klinisk studie med covid-19 patienter
Ludwig Maximilien University of Munich, LMU, använder just nu ScanWatch i en forskningsstudie på en grupp covid-19-patienter som övervakas digitalt hemifrån med kontinuerliga mätningar av EKG, hjärtfrekvens och syremättnad (SpO2) för att bidra till upptäckten av komplikationer. Detta för att identifiera behovet av sjukhusvård för patienter och underlätta sjukhusets planering av resurser och vårdkapacitet.
Moritz Sinner, läkare och associerad forskare inom kardiologi vid LMU München, kommenterar studiens status: "Den initiala responsen från deltagarna i studien har varit mycket positiv. Deltagarna känner sig mycket väl omhändertagna tack vare den regelbundna SpO2-mätningen med hjälp av klockan och stöd via telefon från vårdpersonal. Att integrera kroppsnära teknik ger stora fördelar för den vidare utvecklingen av tjänster inom telemedicin och kan fungera som en riktig förlängning av vården i framtiden."