Panasonic har försett turkiska AKUT Search and Rescue Association med flertalet robusta TOUGHBOOK 20 notebooks för att hjälpa deras 27 team av volontärer att rädda liv.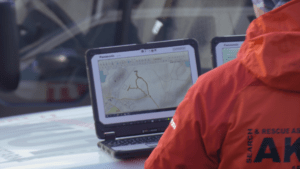 TOUGHBOOK 20, motståndskraftig mot vatten, damm och stötar, stöder AKUT under kritiska uppdrag i utmanande miljöer som bergsmassiv efter jordbävningar, kraftiga snöfall eller översvämningar.
—TOUGHBOOK 20 är perfekt för vårt arbete och det känns som att den utvecklats specifikt för sök- och räddningsinsatser. Jag tror att produkterna kommer att vara viktiga för vår verksamhet och jag skulle vilja tacka Panasonic å AKUTs vägnar då jag är övertygad om att vårt samarbete kommer att växa i framtiden, kommenterar Recep Şalcı, ordföranden för AKUT Search & Rescue Association.
AKUT Search and Rescue Association grundades 1996 och var den första icke-statliga sök- och räddningsorganisationen i Turkiet. Sedan starten har över 3 500 inhemska och internationella operationer utförts av organisationen. Panasonic TOUGHBOOK ger stöd till AKUT genom att tillhandahålla mobil datorteknik som är lämplig för sök- och räddningsmiljöer.
En tuff enhet för tuffa miljöer
Med MIL-STD-810G-certifiering och ett hölje av magnesiumlegering är Panasonic TOUGHBOOK 20 ytterst lämplig för användning i de ofta extrema miljöer där sök- och räddningsstöd utförs. Den är fall- och slagtestad och har bevisad damm- och vattentålighet på IP65-nivå. Enheten, med ett batteri som kan bytas även under drift, håller i upp till 17 timmar och pekskärmen fungerar utmärkt även i dagsljus samt kan användas med handskar på. Dessutom kan tangentbordet separeras från enheten så att den kan användas som surfplatta vid behov.